Announcements for February 11
Announcements for February 11
February 8, 2018

Lori Tanner
Annual Meeting
Please remember the Annual Meeting, which will be held after the 10am service on Sunday 25th February. At this meeting we will be electing new Parish Council members and a warden, appointing delegates for the Diocesan Synod, and receiving the financial report for 2017.
What's New:
Spring Newsletter: Yvonne is beginning to work on the spring newsletter. Please send your articles, stories, helpful hints, exciting family news, lovely photos etc. to Yvonne at [email protected]
Vancouver Island HMI Christian Hockey Camp - Summer 2018: The Shawnigan Lake camp is open to boys and girls between the ages of 9-17, it is an amazing week for a hockey player of any level. Christian Hockey Camp programs are designed to prepare hockey players for challenges, both on and off the ice. Campers will receive excellent instruction from some of the games best players and coaches during the week. Each camper will also experience a variety of interactive off- ice activities including dry-land training, sports, games, and interactive training in Christian living.
Overnight Camp Cost: Before April 15, 2018: $795 + tax = 834.75 After April 15, 2018: $815 + tax = 855.75 Day Camp Cost: Before April 15, 2018: $525 After April 15, 2018: $545
Main Website: https://www.hockeyministries.org Vancouver Island Summer Camp (July 8-13, 2018): https://www.hockeyministries.org/camps/locations/vancouver-island-shawnigan-lake/ Registration Page: https://www.hockeyministries.org/camps/registration/
Volunteers Needed: We are also looking for volunteers to help organize and promote the camp and/or be a counsellor at the camp. Camp Counsellors do not need to be hockey players, as we have professional coaches who will work with the kids.
Project LED: Parish Council is moving forward with Phase 1 of "greening" the Parish to reduce our consumption of gas and electricity, thus reducing our carbon footprint. Phase 1 will involve the replacement of all incandescent and fluorescent lighting with LED bulbs. Obviously, this will require extra funds initially, but the savings should far outreach that expense. If anyone in the Parish wishes to help offset the costs, their contribution will be gratefully accepted - just place your contribution in the Offerings, clearly identifying the funds for Project LED, and your donation will be added to your Envelope Givings for the year and you will be credited on your 2018 Charitable Donation receipt. Another project under consideration is the installation of Solar Panels on the roof, which would result in annual savings on our electric bills in the order of $2,500-3,000. However, the cost of installation is substantial and the means of accomplishing this are still very much in the embryonic stages.

What's Happening at St. Philip's:
Turning palm crosses into ashes: As we prepare for Ash Wednesday and the start of Lent, I invite you to bring your palm cross from last year to church by Sunday 11th February, so that the crosses can be burned and ashes prepared for the Ash Wednesday services.
Shrove Tuesday Pancake Supper - February 13th: Come and join us at the Pancake Supper, starting at 5pm. Serving until 6:30 - by donation. Invite your friends to come with you.
Ash Wednesday - February 14th: On Ash Wednesday, we will be having two services for the imposition of ashes. The first will be at 10:30am and the second will be at 7pm. All are welcome to either service.
Jewelry Sale: Do you have jewelry, either whole or in pieces that you no longer want? Then bring them on Sundays until Feb. 18 and place in a box which will be in the hatch between the kitchen and the Meeting Room. The Jewelry Sale will be on Feb. 24. from 9:00 am to 12:00 pm.
Lent Course 2018 - On the Third Day: Our Lent Course will be held on the Wednesdays in Lent, starting on Wednesday 21st February, at 10:30. This year's course is called "On The Third Day". The resurrection is the Big Story that turned a little Jewish protest movement into a world-transforming religion. And yet by Easter Monday we've almost forgotten about it and are planning our summer holidays. How can we re-capture the explosive power of the resurrection that ricocheted around the world? How can we live in the glow of resurrection and be an Easter people? How can 'there and then' become 'here and now'?
There are 5 Sessions: 1. Have I got news for you! 2. So what? The implications of the Resurrection 3. 'Let him Easter in us' 4. Celebrating and praying Easter 5. A risen Church
If you would like to take part in this year's Lent Course, please sign up on the sheet in the multi-purpose room.
Forward Day by Day: Many people at St Philip's use the small book of daily bible readings and meditations called Forward Day by Day. Did you know that in addition to using the small booklet, you can also get an app for your smart phone or sign up for a daily email or podcast. If any of these options would be of interest to you, please check out their website: Forward Day by Day We are also looking into the possibility of receiving large print versions, for those requiring it. Please let Lori or David know if you require a large print version: [email protected] or by calling 250-390-3641.
Flowers for the Altar: There are still many dates open for 2018. If you would like to bring flowers, please add your name to the calendar on the church bulletin board, and contact Patricia Thomson-Turner, who has kindly taken on the responsibility of Flower Guild Coordinator, at 778-269-1054 or [email protected]
Sunday Liturgical Assistant Volunteer Opportunity: Thank you to our volunteers who create a church service of welcome as we first enter the church and within the church service itself. We invite you to become part of a very important ministry in the church. There is always room for another person to become a greeter, a sides person, a chalice bearer, a server, say the Prayers of the People and also to become a part of the team who counts the offering. Please speak to David if you feel you can help and where you feel you can fit in.

Community News:
Patrick's Debut Album: Vancouver Island jazz pianist Patrick Courtin is currently creating a debut album to be released Spring 2018. He is very excited to be joined by his friends and musical colleagues Marisha Devoin on bass and James McRae on drums. The illustrious Rick Salt is recording, mixing and mastering. This album, featuring mostly jazz standards and a few original tunes will be encased in an eco-friendly sleeve adorned by local original artwork. By pre-ordering this album you are helping finance the process as well as contributing to the survival of a little part of your local arts and music scene. Your investment buys you one copy of the album to impress dinner guests and serenade your loved ones on long drives. To pre-order an album, go to https://www.gofundme.com/patrick-courtin-jazz-trio-recording
Women's Day: Saturday February 17th at St. John the Baptist Duncan: 10:30am – 2pm. The women of St. John's invite the women of your parish to join in a day of faith, fellowship, food & fun. Eucharist – 10:30 (free will offering); gathering @ 11:30 for noon lunch; sharing & speaker 1:15pm. Faith in Action is the theme and speaker Kathleen Ngenda will share mission work she & husband James are doing in Liberia. Perhaps each parish would share a 'faith in action' happening in your parish. St. John's will be catering lunch so please contact Lori Tanner no later than Monday, February 11th at St. Philip's (250-390-3641) if you are planning to attend, so she can advise St. John's on the total number attending from St. Philip's. Jewelry & book table will be available for purchases.
World Day of Prayer: This year we will celebrate The World Day of Prayer at St. Andrew's United Church, 311 Fitzwilliam Street, Nanaimo BC, on Friday March 2, 2018 at 7:00pm. The theme is "All God's Creation is Very Good!" from the women of Suriname. On Wednesday, February 14, 2018 at 2:30pm we are having a World Day of Prayer planning meeting in our Church Hall at 2:30pm. You are invited to have 1 or 2 of your church members to attend to: share ideas for World Day of Prayer or volunteer to be a reader. All are welcome! For more information call Janet McGregor at (250) 758-6384. Please join us!
LENTEN FILM SERIES: the 4th annual Lenten film series is scheduled at Trinity United Church, Nanaimo. Tuesday afternoons from February 20 through March 27, 1:00-4:00 pm, with time for the movie, some refreshment, and discussion. All welcome, no fee, and information updates weekly.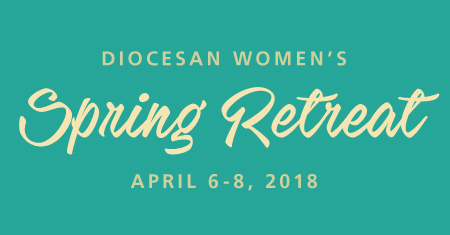 Diocesan Women's Spring Retreat: April 6-8, 2018. Through story, music , art and song we will explore the nature of God and Reacquaint ourselves with who and whose we are. For more information and to register visit http://www.bc.anglican.ca/events/diocesan-womens-spring-retreat--92/2018-04-06 or see the poster and registration form located on the church bulletin board.
Sorrento Centre Programming for 2018: Registration now open! Our 2018 program for Sorrento Centre has been making its way online over the last few weeks. There are more details to be added over the coming weeks, but our summer course list is online. Registration can be done online and over phone/email through our office. Visit our website to see the program calendar: www.sorrento-centre.bc.ca. Go online to register or call/email Sorrento Centre: 250-675-2421 or toll free: 1-866-694-2409. Email: [email protected] We look forward to welcoming you to Sorrento Centre this year!
Spirituality Beyond Borders - Education for Transformation: Spirituality Beyond Borders is looking forward to an exciting year of events in 2018. We have programs planned for the spring, summer and fall. Our first year of programs in 2017 has been fulfilling, encouraging and transformative, and we have welcomed more than 100 participants and nearly 200 registrations. We eagerly look forward to more of the same in the year ahead. For information about our programs in 2018 click on this link: http://spiritualitybeyondborders.org/2018-events/